pay attention
Apr 19
This trail mix is soooo good! It's sticky and more like granola, but very rich and satisfying. The addition of spices (nutmeg, cinnamon), vanilla and honey, along with toasting for a few minutes makes this mix different than your typical "throw nuts and smarties in a bag" variety. Keeping good snack food around is difficult, but I'm glad to add this to my arsenal. The next challenge is consistently packing things up the night before so I actually bring it to work!
Mar 18
Now THIS is a cat calendar!
(via twofish)
Mar 04
Flying solo
This week the boyfriend is out of town, and I'm on my own. Great in lots of ways (no offense, honey!) but when it comes to eating, not so much. I've never done well with cooking just for myself… It's hard to cook for just one person, and I don't particularly like leftovers. Still, I did my weekly grocery shop today, and I'm hoping to not cop out and eat canned soup all week. 
Tonight I did a quick stir-fry of bacon and baby bok choy seasoned with garlic, pepper and lemon juice. It was delish. 
Catching up
I haven't been up to much out of the ordinary lately… but I haven't been posting either. Still cooking away, trying new things. I've tried a few different recipes, with varying degrees of success. 
I made a spicy cauliflower recipe which was pretty awesome (though sadly my cauliflower was white, not purple). The roasted texture and the spicy flavour definitely made this veg more interesting. 
I made some ginger lime chicken bites, (and found a new source of recipes and paleo info in the process!) which turned out tender and with a nice flavour. I felt like this might work as a marinade before cooking. 
The other day I put together some double-pork stuffed chicken breasts. Meat, stuffed with meat, and wrapped in meat! The flavour was good, but honestly, it was a lot of meat. I can't imagine eating one of these suckers with my hands, as described in the recipe. A couple of servings of roasted vegetables rounded out the meal. 
There it is. Still cooking, still eating, still trying my best to be healthy. I reorganized my kitchen a while back, which has made cooking a little easier. I think the next step is going to try getting better at planning and preparing meals (or parts of meals) ahead of time, to avoid eating late and having a lot of work to do in the kitchen after a long day at work. We have enough freezer room to store stuff in, but I've never been a huge fan of frozen food (unless it's ice cream!). I'd rather eat fresh every day. Something to think about, anyway. 
Feb 19
Fitness comes in all forms... -
Neil Gaiman (@neilhimself) tweeted a link to this blog post as a reference to comic artists… What a great resource! Not to mention the wonderful cross-section of humanity here - so many personalities and stories. I find it interesting to see what kinds of fitness I can relate/aspire to - some of these people I have no interest in emulating (the long-distance runners, no thanks). I like the triathlon/decathlon guys, and that one female basketball player is pretty awesome too. It's worth asking: what kind of fit do you want to be? 
Feb 17
Creative Assignments Using Technology
In a couple of weeks I will be conducting a workshop that focuses on how instructors (in higher ed) can build creative assignments that use technology. For obvious reasons, I'll be drawing a lot of inspiration from ds106, particularly the Daily Create and Assignment pool, but I was wondering if anyone else out there in technology land had any ideas or thoughts they wanted to share. 
Pedagogically, the big message I want to give people is that you need to focus on what you want students to demonstrate they have learned - rather than wasting everyone's time going on ad infinitum with details about what the final product should look like (think of research paper requirements: double spaced, APA style, blah blah blah). Technology-based assignment formats can engage students, help them practice useful skills they'll be using in their careers, and start building critical media literacy skills. Based on that message, I plan to show some examples and introduce instructors to tools they might use.
What do you think?
Feb 13
[video]
Feb 07
nom nom debut
This meal was a couple of firsts for me. First first, this Asian Almond chicken salad recipe came from nom nom paleo, a lovely and entertaining tumblr I just discovered (which makes me late to the party, I know. I will be going back there for more recipes and ideas, for sure. And I will probably have to buy a t-shirt).
Second, I made a new vegetable friend today: kohlrabi! I'd never had it before. It's like a cross between an apple and a radish, and I like it. Managed to slice some finger off while chopping it though. Good reminder to work on my knife skills a bit (PS. typing this is really hard with a bandaged ring finger. I'm hitting the "l" key a lot.). Anyway, I served the salad with some roasted sweet potatoes, with the chipotle dip I mentioned in a previous post. Nom nom indeed! 
Feb 05
sausagefish
Cooked another good meal last week. Discovered that fish and sausage makes a surprisingly good combination, and that celery can hold its own in a salad. Chorizo and almond crusted cod - recipe from Mark Sisson's Primal Blueprint Quick and Easy Meals book, served with simple celery and almond salad, recipe from Mark's Daily Apple. The salad keeps well and the leftovers are great to take for lunch. 
Found this on Swiss Miss today and had to share. It's true that 74-year old triathletes are more the exception than the rule (though that brings up its own questions) but I can't believe the difference! I wonder how many people would be moved to make a difference in their lives if they could see stuff like this.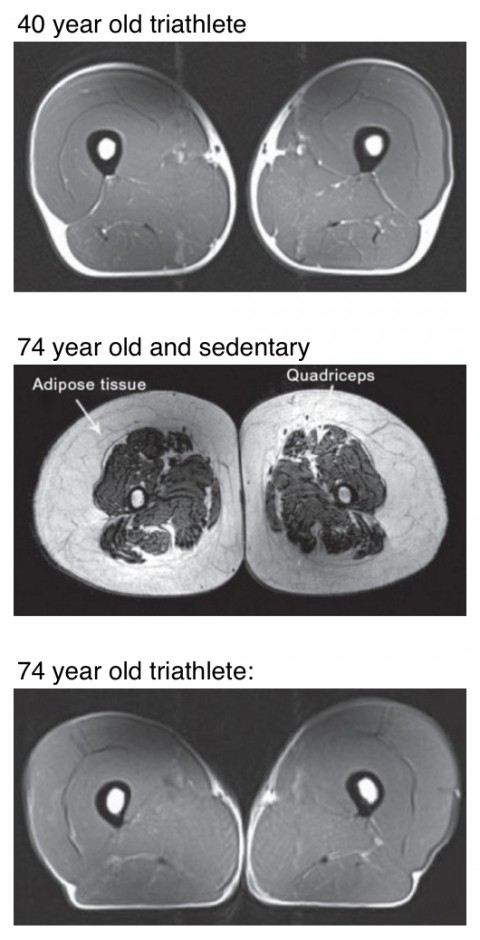 Note to self: when old, be mostly muscle.
Also, when I hear the word 'adipose', I can't help but think of these guys: